Schools and Universities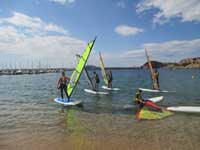 Our company proposes for student groups the best options to enjoy an exceptional natural environment in Sant Feliu de Guíxols and at the Costa Brava, whilst practising sports as well as adventure and fun activities with educational goals. All our programmes and stays are adapted to suit the needs of each group, putting safety as the first priority in all activities.
PRIMARY SCHOOLS - 1 DAY PROGRAMMES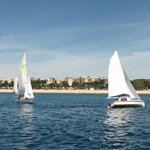 Blue Day
Sailing course, duration of approximately 3½ to 4 hours. The activity includes a theoretical introduction to sailing, followed by some real sailing in small groups.
SECUNDARY SCHOOLS AND FURTHER EDUCATION COLLEGES – 1 DAY EDUCATIONAL PROGRAMMES
We can offer tailor-made programmes, choosing from the many activities we organize, to meet the needs of each group.
2 DAY PROGRAMMES / 1 NIGHT / 3 ACTIVITIES
3 DAY PROGRAMMES / 2 NIGHTS / 4 ACTIVITIES