Sportspeople & Clubs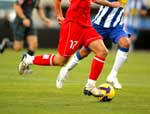 Our company will be happy to advise and assist you in the planning of your training programme, sports camp, or technique clinic, ensuring all necessary conditions are covered to get the most out of it for each sports discipline.
We have different options to offer regarding accommodation and sports facilities, to meet the needs and requirements of athletes of all levels and almost all disciplines.
Whether you are an amateur or professional, coach or technical director of a sports club or federation, you can take advantage of our logistics to prepare the best pre-season training camp, (or in-season or off-season), or to improve technical aspects, physical condition, teamwork and team spirit.
Our team of qualified professionals is at your disposal, for managed trainings, as well as physical fitness examination and assessment, medical advice and physiotherapy.
The training camps and programmes count with the option to practise physical activities in a natural surrounding, which can generate significant benefits for the athlete and his/her sport, and complement the training.
Modules for training camps and programmes: Football, basketball, handball, swimming, triathlon, cycling, MTB, tennis, golf, volleyball,  badminton, futsal, hockey, rolling hockey, sailing, rowing, taekwondo, judo, etc.